It's Samhain, I have a Nutella cake in the oven, there's a ceilidh tonight and most things are right in my small corner of the world. :-)

Last night's ceilidh was a blast. I *attempted* to take pictures, and I only came up with one worth posting, but this kind of gives you an idea about what went on: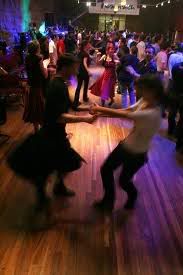 Not the world's best picture, but you get the idea. The couple in the foreground is my cousin Cam and his wife. Cam is a world-qualifier Premier level Highland Dancer. Here's a picture of him from a competition this past summer:





Mr. L took this one, as you can probably tell. Cam placed 37th at the World Championships this past August at Cowal in Strathclyde!

Tonight's ceilidh is smaller than last night's and we'll have the traditional bonfire, music and storytelling after we bring the kids back from Trick or Treating. I have to spend some time this afternoon choosing some songs to sing. Most of the folks attending tonight's ceilidh speak Gàidhlig, or understand it to some degree, so I think I'll forgo English tonight.

Miss M and I will be pumpkin carving after the cake is on the cooling rack. I have yet to decide what I'm going to try to make. Maybe our favorite potions master's face? ::ggg:: I'll post it after it's done.