First, by
fabledtruant
,
Lapdog (or wolf?)
, a truly elegant, sensual artwork, which will delight even if Snupin isn't your cup of tea. The detail is exquisite, the colors, the expressions on the faces and the art-nouveau style framing are just gorgeous. One I'd hang on my wall in a heartbeat!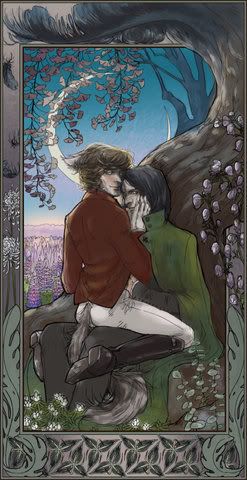 Another bit of Snupin Art, this by the amazing shadowycat, called
Finding Love
. This is a triptych of pencil drawings, again with marvelous detail and a deal of wit. This is the first of the three.
Isn't it gorgeous?
There will be more later, but I want this posted on the 9th and I've got 2 minutes left. :-)
And lastly, a gift for a favorite Potions Master: a story, by yours truly, posted publicly (eep!) at Severus Big Bang:
Saturday's Child
. Be kind :-)
Some lovely art recs to celebrate! The links are in the titles, so follow those to see the artwork as the artist intended. The pics in my post are just to whet your appetite!
Current Mood:

anxious