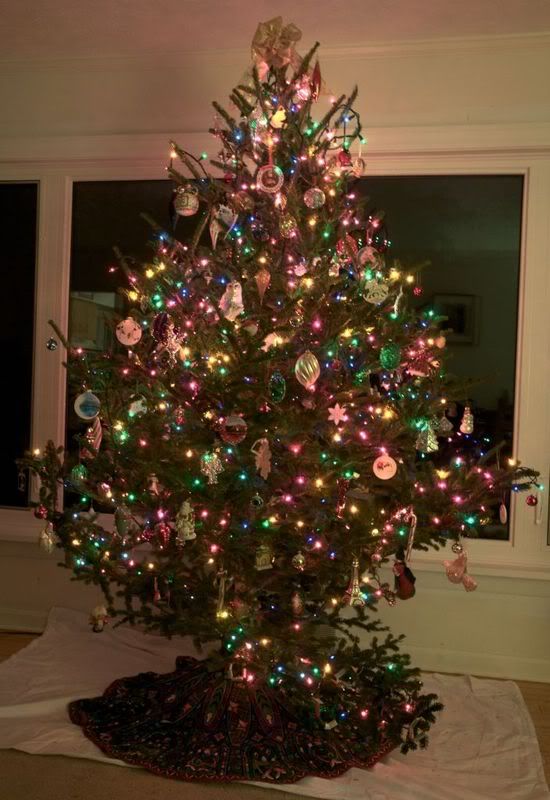 It always takes 2 evenings to put up our tree - the first to put on the lights, the second to hang the ornaments. My husband and I have been having a running (friendly) argument for the last 15 years concerning the proper way to decorate a tree. He insists that I am obsessive (who,
moi
?) because I think the lights should not just be wound around the *outside*, but should follow the branch from tip to trunk so that there's light inside and out. That means it takes a long time for me to put them on, and we'd probably win the Reddy Kilowatt Award for number of lights packed into a tree (there are about 1000 on this 8 foot frasier fir), but I wouldn't have it any other way. But then, he likes the big bulbs, and
tinsel,
which makes his taste in tree ornamentation questionable anyway. ::g:: I'm a purist, and prefer no tinsel or garland to obscure the ornaments. The tree was too tall this year for our German blown-glass topper, so I made a bow for the top, the first time we've ever done that.
Every one of the ornaments on this tree has some special significance. Perhaps bought on one of our trips (we always come home with an ornament as one of travel souvenirs), or given to us by someone we love, or made by our girl. We listen and sing along to carols, eat cookies and drink hot cocoa while we decorate, and it usually takes us two to three hours to hang them all. After we're done, we turn off all the room lights and just sit on the sofa with our arms around each other and look at our lovely tree for awhile. Shamefully soppy, I know, but we can't help ourselves. :-)
So, enquiring minds want to know, flisties - what are your traditions? Real tree or artificial? Large bulb lights, or small? Colored or white lights? What goes on the top of your tree? Which ornament do you look forward most to hanging on your tree? Garland, tinsel or nothing?
How long do you leave your tree up? Do tell! ::g::
It's up! Yaaaayyyy!!
Current Location:

basking in the glow

Current Mood:

cheerful

Current Music:

Vivaldi (yes, I know it's cliché)